Tag Archives:
hiphop
I might as well just change this column to be the 'Week in Instagram a la I Shoot Reno' with all of the IG photos popping up these days, but let's not forget about this amazing thing all around us called 'the real world'.  Yes folks, this thing does truly exist, and if we look up from our smartphones for just a quick second we'll realize that we're all part of something much bigger than real-time updates on whichever topic we fancy at the moment.  Indeed, this 'real world' will often demand our attention when we are sucked into our technology and it is up to ourselves to impose a limit and recognize when lines are being crossed.  Example: Click on the link just below to discover an upcoming Hip Hop show in our area which is not to be missed.  Or, of course … you could just stare at your iPhone all night.
Hold iPhone 4S up to a foggy set of glasses and snap the pic.  It should look something like the image above.  Try it with different lighting effects for really interesting photos! #nofilter
Anyone remember that Green Velvet song which repeats the phrase It's time for the percolator?  That's just a hint.  Can you guess which app I used?
So word has it that this is an unofficial tour poster and many of the dates have yet to be announced.  Word also has it that one of I Shoot Reno's photos of Tech N9ne was included here.
Slow Shutter + Juxtaposer on the apps.  I was sitting at the light and took this shot right as we made a right onto Robb Dr. off of Sharlands in NW Reno.  Cool, huh?  Oh, and eat your greens!
So this is basically an edit of what my iPhone 4S home screen looks like.  That's a mosaic of Jimi I made as the wallpaper even though you can't really tell…
Sierra Nevada Stout Mustard clear plastic seals make excellent filters for you iPhone 4s. LOL
@truffin and @theatrefans put together this entry for the #creativecrew_collab this past Friday the 13th.  We didn't win or nuthin, but it was super-fun and we're all friends now.  Ta-da!
Entry #2.  Also a collab with @truffin and @theatrefans — really cool stuff!
Part one of my journey into the Lambic.  iCameraHDR + Percolator + Snapseed.
The raised Framboise Lambic logo on green glass…
Decim8 helped out on this one of the red raspberry foam.  Delicious!
Frosty, red, Belgium, beer.  Nuff said!
She really knows how to relax.  Take note!
The big blurry thing in the center is her tiny little paw.  Gotta love the Pixie!
I grabbed a photo of Captain Jean-Luc Picard from the Web and did some editing in ToonPAINT, Decim8 and LensLight.  Pretty flippin sweet if you ask me.
Go On, Treat Yourself to Something Nice!
Do you buy stuff online? Do you buy camera stuff online? If this post or anything else on ishootreno.com was helpful to you, please consider supporting this site and making your next photo gear, music or general purchase through one of our affiliate links:
Every time our readers buy new gear through our affiliate links, it helps us bring to the table more of that which brought you here in the first place — the 'money' shots!
The best part?!  It doesn't cost our readers anything extra to show their support!
If our readers do pick up some new gear, please drop us a line … we always love to hear about your new additions!
Comments, Praise, Feedback?  We're all ears!
Please let us know what you thought of this post on ishootreno.com!
Posted in
Live Music & Concert Photography
Also tagged @theatrefans, @truffin, #creativecrew_collab, 2012, Abstract Rude, beer, Belgium, Captain Jean-Luc Picard, chihuahua, Decim8, filter, Framboise Lambic, Friday the 13th, FX Photo Studio, Green Velvet, hip-hop, home screen, I Shoot Reno, iCameraHDR, indie, Instagram, iPhone 4S, January, juxtaposer, LensLight, live music, Matttress, music, Nevada, Northern Nevada, NV, Percolator, photo, photography, Pixie, rap, raspberry, Reno, Sierra Nevada Stout Mustard, Silver Legacy Resort Casino, Slow Shutter, Snapseed, Sparks, Star Trek, Tech N9ne, The Alley, ToonPAINT, tour poster, underground, week in review
Comments Off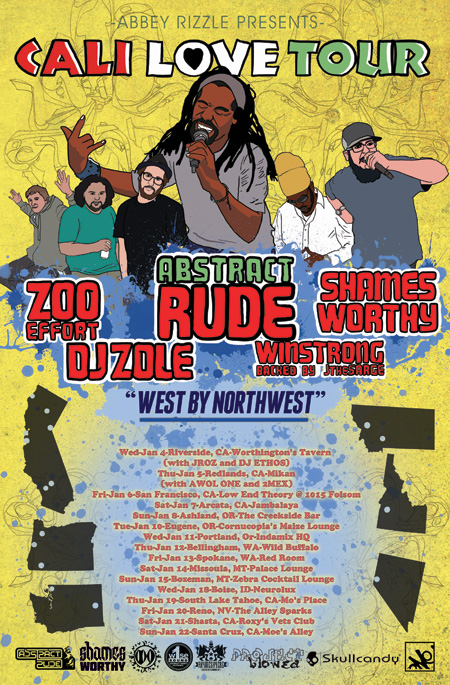 For a $10 hip hop show, this is a sure-fire win with headlining act Abstract Rude putting it down for all of the true hip hop heads out there in the Reno-Sparks-Carson City areas.  Another quality event presented at the intimate, fan-friendly Victorian Square venue, The Alley by local hip hop site 775hiphop.com.  Head down early and hit up Cantina Los Tres Hombres and/or Great Basin Brewing Company for some delicious eats and pre-concert drinks, as you'll need to build up energy levels for dancing and/or fist pumping at the show.
$10.00 Get Tickets
Check out Abstract Rude on Amazon: Rejuvenation, Making Tracks, P.A.I.N.T., Steel Making Tracks, Showtyme!
Posted in
Upcoming Events
Also tagged 2012, 775 Hip Hop, Abbey Rizzle, Abstract Rude, Amazon, Cali Love Tour, Cantina Los Tres Hombres, DJ Zole, Great Basin Brewing Company, hip-hop, indie, January, live music, Making Tracks, music, Nevada, Northern Nevada, NV, P.A.I.N.T., rap, Rejuvenation, Shames Worthy, Showtyme, Sparks, Steel Making Tracks, The Alley, tickets, West By Northwest, Winstrong, Zoo Effort
Comments Off