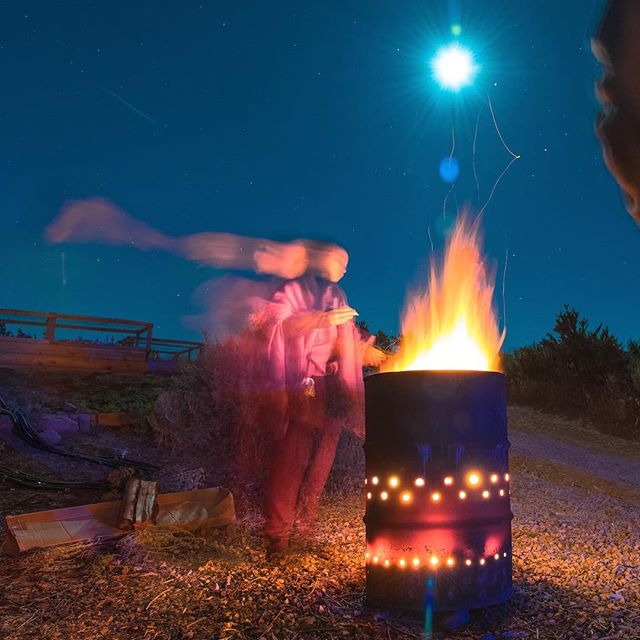 •Becoming A Ghost•.To me, this image represents several of my all-time favorite possibilities in photography. These include capturing a subject's movement while still managing to "freeze" time; the representation of multiple light sources amongst the darkness of night and the transformation of our surroundings into something that really only the camera could see in the moment..I really love how the "ghost" subject here was moving from the left to right, getting closer to the burn barrel while eating a s'more and enjoying the warmth of the flame, which I feel greatly helped to create a very dreamy and moody scene. All the while stars are shining ancient light down on us and in return, we're sending sparks to the sky, which are crossing over the beautiful rays of moonlight and leaving sharp streaks of bright orange on the camera sensor over this 13 second exposure. The ISO was also cranked up high, allowing for a lot more visibility and detail in the foreground than what could be seen by the naked eye, helping create this unique and serene nighttime setting..Now that I really think about it, we're all becoming ghosts, in a way…. 2016-06-18 10:38PM️Nikon D750 ️Nikkor 24-70mm @ 24mm️ISO 2000 ️f/8.0 ️13 sec
► Make sure to follow @ishootreno on Instagram to stay up-to-date with my latest creations!
► Check out my Etsy shop for FUNKY and unique handmade blank greeting cards!
I ship worldwide and welcome custom orders of any type of print you can imagine (canvas, metal, poster, greeting cards and more)!