Tag Archives:
pictures
About 10 days ago, Status-FLO (Joel "Jaybird" Cowell, Tsyoshi "Yosh" Curtis, Tony L. Walker, Mark Sexton + more) laid down their luscious and smoky grooves in preparation of Sage Francis' headlining set at the 2011 World AIDS Day benefit concert at Knitting Factory Concert House in downtown Reno.  With a non-stop lyrical overdrive carefully laid atop soulful downtempo grooves, Status-FLO's local blend of organic musical ingredients is a solid bet any day of the week, and it pleases me to no end to have the privilege of photographing a bit of the magic to share with the faithful readers here at I Shoot Reno.
Settings on the Nikon D7000 camera (using the Nikon 50mm f/1.8D lens) were essentially the same as shooting Sage (and many other shows at The Knit), with shutter speed of 1/250th of a second, aperture set to 1.8 and ISO cranked up to 3200.  Editing took place in Lightrrom 3 and Lightbox by Photocrati is the theme used on IShootReno.com to present the final product.  Included in the full gallery (link below, in ALL CAPS), images include Status-FLO's performance, breakdancers performing in-between sets, live art taking place throughout the night including such themes as 'Zombie Bill Cosby' and Eazy-E, as well as a very unique pair of sparkly blue jeans (under red light).  Yes, you read correctly, there's a photo of a pair of sparkly jeans.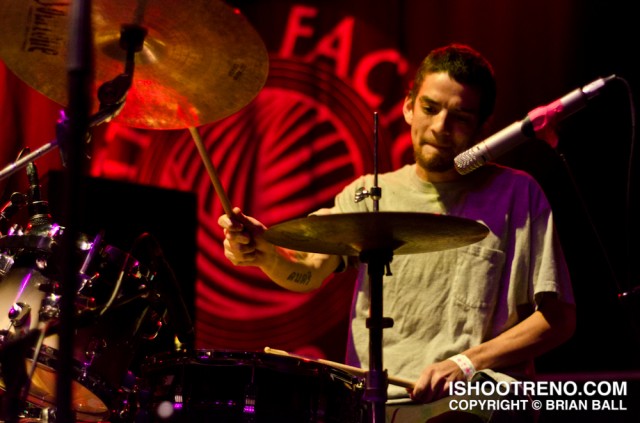 Camera(s) Used:
Nikon D7000
Lens(es) Used:
Nikon 50mm f/1.8D
Go On, Treat Yourself to Something Nice!
Do you buy stuff online? Do you buy camera stuff online? If this post or anything else on ishootreno.com was helpful to you, please consider supporting this site and making your next photo gear, music or general purchase through one of our affiliate links:
Every time our readers buy new gear through our affiliate links, it helps us bring to the table more of that which brought you here in the first place — the 'money' shots!
The best part?!  It doesn't cost our readers anything extra to show their support!
If our readers do pick up some new gear, please drop us a line … we always love to hear about your new additions!
Comments, Praise, Feedback?  We're all ears!
Please let us know what you thought of this post on ishootreno.com!
Super-Happy Funtastic Bonus Pics!!!
Posted in
Live Music & Concert Photography
Also tagged 2011, AIDS, aperture, art, bboy, benefit, benefit concert, benefit show, Bill Cosby, Blues, break dance, breakdance, breakdancers, breakdancing, camera, camera lens, conscious, December, doodles, drums, DSLR, Eazy-E, facebook, funk, guitar, hip-hop, I Shoot Reno, image, indie, ISO, jam band, jazz, Jello, Joel "Jaybird" Cowell, Knitting Factory Concert House, lens, live art, live music, Locus, Mark Sexton, mc, music, Nevada, Nikon, Nikon 50mm f/1.8D, Nikon D7000, Northern Nevada, NV, painting, performance, photo, photography, photos, picture, poet, poetry, Reno, RIP, rock, Sage Francis, shutter speed, sparkly pants, Status-FLO, Tony L. Walker, Tsyoshi "Yosh" Curtis, twitter, underground, unsigned, World AIDS Day, Yosh, zombie
Comments Off